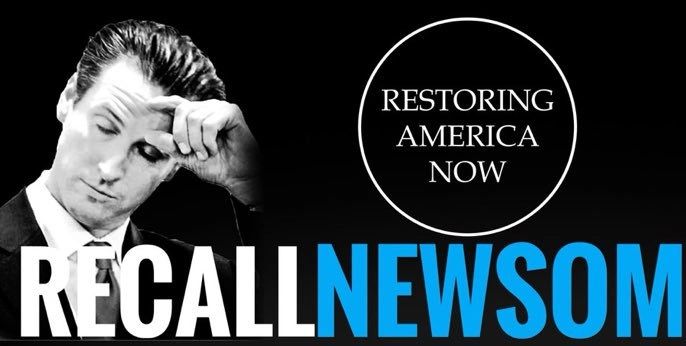 The official "Erin Cruz" petition (the first petition approved) to recall Governor Gavin Newsom is available for people to sign at two area businesses:



Mustang Firearms, 10893 Alta St.  Grass Valley.  
https://www.mustangfirearms.com/
PHONE:  (530) 477- 6622        
HOURS:  Tuesday - Saturday  9:00 am - 5:00 pm  (Closed Sun & Mon)
The Range, 13235 Grass Valley Ave, Grass Valley  
http://therangeus.com/rates-hours/
PHONE: (530) 273-4440
HOURS: Tuesday - Friday 11:00 am–6:00 pm (Wed until 7:00 pm)
Saturday 9:00 am– (4:00*) 5:00 pm (Sunday & Monday Closed)

The Hunters Blind, 671 Maltman Dr. #1, Grass Valley
https://the-hunters-blind.business.site/
PHONE: (530) 272-4179
HOURS: Mon: Closed
Tue: 10:00 AM – 6:00 PM
Wed: 1:00 – 6:00 PM
Thu: 10:00 AM – 6:00 PM
Fri: 10:00 AM – 6:00 PM
Sat: 10:00 AM – 3:00 PM
Sun: Closed
Harrington & Baldwin
470 E. Main St.
Grass Valley
(near the round-about in Hills Flat)
Hours: Tues-Friday...10 am to 6 pm
Saturday....10 am to 3 pm
530-802-5444
hbminingsupply.com
WHO WE ARE
The California Republican Party envisions a vibrant, prosperous and safe California defined by a robust and growing world-class economy, strong and healthy families, and reformed and responsive state and local governments that serve all the people while protecting individual liberty. We are boldly confident about California's future and hold dearly all that is good about California's people.
The California Republican Party recognizes the truth that government is meant to serve the people. As such, government is solemnly charged with responsibility to craft long term solutions rather short-term fixes. We will hold our government responsible for securing the safety of our families, for expanding our world-class economy, and for promoting fairness and justice to ever Californian.
The Nevada County Republican Central Committee, also known as the Nevada County Republican Party, is an elected and appointed body composed of 23 members elected by registered Republicans at the Presidential Primary election every four years, their appointed alternates, the four Republican Congressional and California Legislative officeholders who represent Nevada County residents and their appointed alternates.
WHAT WE DO
The Nevada County Republican Party is charged with promoting Republican success and in assisting in electing Republican minded individuals to all government offices, from Community Service Districts to City Councils, to County Supervisors, to President of the United States. We accomplish this responsibilities through there primary activities as follows:
Expand the Base- Register Republican Voters. In this highly mobile society, people move, relocate and change their political positions. Active voter registration activities through voter registration drives in fairs, community events and in our neighborhoods are essential to expand voter registration in Nevada County.
Assist Republican Minded Individuals To Elected Office- The NCRP will encourage Republicans to seek public office as we recognize that all government agencies will benefit from the application Republican Principles to their administrations. To this end, we also review candidates who are seeking office and will often endorse those candidates that we feel best represent Republican principles.
Get Out The Vote- The most important activity of the Party is to mobilize Republican voters to vote. We also provide guidance and support to all or endorsed Republican candidates by distributing materials, voter guides and other information to the voters of Nevada County.
The Nevada County Republican Party provides for these activities through contributions raised from within the County. We receive only limited to no support from the California Republican Party and none from the National Republican Party, so you contributions are essential.
Do you like this page?